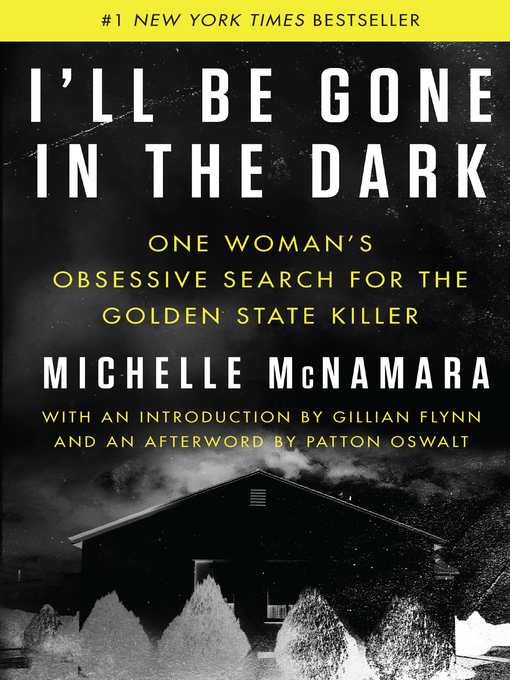 I'll Be Gone in the Dark
One Woman's Obsessive Search for the Golden State Killer
eBook - 2018

Introduction by Gillian FlynnAfterword by Patton Oswalt"I'll Be Gone in the Dark will undoubtedly be stocked in the True Crime section, which is fine, but in so many ways it's a brilliant genre-buster. It's propulsive, can't-stop-now reading, which makes it all too easy to ignore the clean and focused writing. What readers need to know-what makes this book so special-is that it deals with two obsessions, one light and one dark. The Golden State Killer is the dark half; Michelle McNamara's is the light half. It's a journey into two minds, one sick and disordered, the other intelligent and determined. I loved this book." -Stephen KingA masterful true crime account of the Golden State Killer-the elusive serial rapist turned murderer who terrorized California for over a decade-from Michelle McNamara, the gifted journalist who died tragically while investigating the case."You'll be silent forever, and I'll be gone in the dark."For more than ten years, a mysterious and violent predator committed fifty sexual assaults in Northern California before moving south, where he perpetrated ten sadistic murders. Then he disappeared, eluding capture by multiple police forces and some of the best detectives in the area.Three decades later, Michelle McNamara, a true crime journalist who created the popular website TrueCrimeDiary.com, was determined to find the violent psychopath she called "the Golden State Killer." Michelle pored over police reports, interviewed victims, and embedded herself in the online communities that were as obsessed with the case as she was.At the time of the crimes, the Golden State Killer was between the ages of eighteen and thirty, Caucasian, and athletic-capable of vaulting tall fences. He always wore a mask. After choosing a victim-he favored suburban couples-he often entered their home when no one was there, studying family pictures, mastering the layout. He attacked while they slept, using a flashlight to awaken and blind them. Though they could not recognize him, his victims recalled his voice: a guttural whisper through clenched teeth, abrupt and threatening.I'll Be Gone in the Dark-the masterpiece McNamara was writing at the time of her sudden death-offers an atmospheric snapshot of a moment in American history and a chilling account of a criminal mastermind and the wreckage he left behind. It is also a portrait of a woman's obsession and her unflagging pursuit of the truth. Framed by an introduction by Gillian Flynn and an afterword by her husband, Patton Oswalt, the book was completed by Michelle's lead researcher and a close colleague. Utterly original and compelling, it is destined to become a true crime classic-and may at last unmask the Golden State Killer.
Searching for more content…
Branch Call Number:
eBook Overdrive
Characteristics:
1 online resource
Related Resources
---
Opinion
From Library Staff
List - Old Quarry True Crime Book Club Reads for 2019
AustinPL_OldQuarry
Oct 21, 2019
An account of the Golden State Killer
List - Staff Nonfiction Favorites of 2018
AustinPLAdultLibrarians
Oct 23, 2018
Recommended by Julie: True crime that reads like elegantly composed and plotted literature.
---
From the critics
---
Community Activity
Summary
Add a Summary
I have an occasional thing for True Crime, and this case has definitely caught my interest, but of course not at the same level as it captured the author's. She pursued this killer and rapist with the same level of dedication as the hardened detectives and criminalists that she profiles along with the killer. A good read, although sobering.
Cast of Characters
Victims:
RAPE VICTIMS
Sheila (Sacramento, 1976)
Jane Carson (Sacramento, 1976)
Fiona Williams (South Sacramento, 1977)
Kathy (San Ramon, 1978)
Esther McDonald (Danville, 1978)
MURDER VICTIMS (***DNA link tied to 4 cases --- announced Apr 25. 2018)
Claude Snelling (Visalia, 1978)
Katie and Brian Maggiore (Sacramento, 1978)
Debra Alexandria Manning and Robert Offerman (Goleta, 1979)
Charlene and Lyman Smith (Ventura, 1980) ***(DNA link)
Patrice and Keith Harrington (Dana Point, 1980)
Manuela Witthuhn (Irvine, 1981) ***(DNA link)
Cheri Domingo and Gregory Sanchez (Goleta, 1981) ***(DNA link)
Janelle Cruz (Irvine, 1986) ***(DNA link)
===
Note: per wiki: The Golden State Killer is a serial killer, serial rapist and serial burglar who committed 50 rapes in Northern California during the mid-1970s and murdered twelve people in Southern California from 1979 through 1986 ...
===
Author's February 27, 2013 article for LA magazine:
http://www.lamag.com/longform/in-the-footsteps-of-a-killer/
Notices
Add Notices
There are no notices for this title yet.